Commodore Message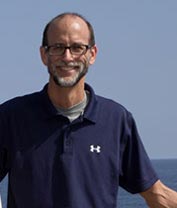 NTYC Commodore
Steve Clemens
Welcome to the Narragansett Terrace Yacht Club. Our small club consists of 90 members, brought together by the shared enjoyment of boating on Narragansett Bay and beyond. We enjoy promoting boating and sailing through a range of club-sponsored activities that engage both the young and old(er) as well as the novice and more experienced among us.
We have an active racing program consisting of a PHRF class and a Rhodes-19 (one design) class. Thus, regardless of the type of boat you own, there is a venue for you to enjoy racing it in our Thursday evening Spring and Summer series. As well, we have a weekend series of longer (around Prudence Island) races. Finally, we have a number of annual regattas including the ever-popular race to RIO, a half-day event specifically for novices and non-racers as well as regattas in honor of members who have left indelible signatures on our club such as the Alicia Taber Regatta, in honor of NTYC's (and Rhode Island's) first female Commodore.
In addition to 'regular' (boat owner) memberships, we promote 'social' memberships for those who don't (yet?) own boats but wish to join in the fun both on the water and on the land. We host a number of social events throughout the year at our modest club house and dock facility located on Bullock Cove in East Providence, RI. A social membership is an excellent way to introduce yourself to the wonderful world of boating and sailing and the community of people it draws together.
We welcome you to come visit us.
What's New
January 20
2018 Race Schedule has been posted. Click here to view it.